Also look under the updates for more frequent news!
Last modified:
Douglas Dispatch October 2008 PDF file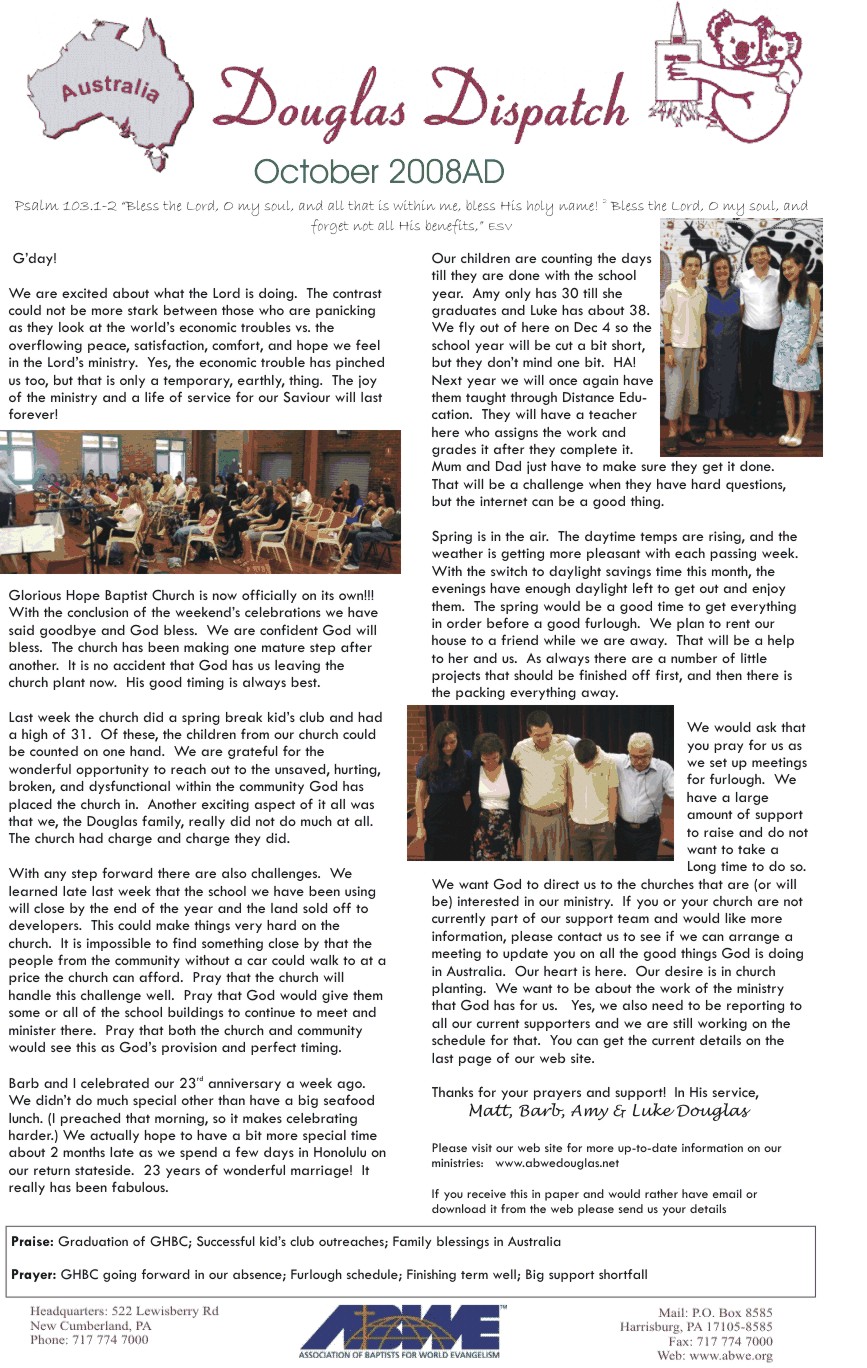 -----------------------------------------------
Sorry, we missed several due to web site problems.
----------------------------------------------

Douglas Dispatch Last Quarter 2007 PDF file
-----------------------------------------------
October 2006

Dear Faithful Supporters,

"Who is like the Lord our God, who dwells on high, who humbles Himself to behold the things that are in the heavens and in the earth?" Ps 113.5-6

We are humbled to know that God, the high and exalted one, humbles Himself to know what goes on with us here on earth. He knows and cares about our lives! Praise Him!

It's been awhile since we've sent a letter to you. We do send email updates fairly regularly, but once in awhile we like to send a "snail mail," especially so those of you who don't get email can be updated on what's happening Down Under.

God has been so good this year. We've seen a number saved at church. We are seeing more of our "visitors" come back regularly. We recently had a two-day church camp, which was a great time of worship and getting to know one another better, as well as good teaching and encouragement to be committed to the ministry at Glorious Hope.

We have had good ministry in Scripture classes and English as a second language classes.

Our family is well. Amy and Luke are growing physically and spiritually. They are doing well in school.

We are excited about the seminary course we are now taking through Asia Baptist Theological Seminary. It is an extension course. Twice each year a professor gives a two-week seminar (two classes each time), and then we finish up the course work within three months. This is stretching for both of us, but will be of great benefit as we work toward a Masters in Religious Education degree. Some of the courses are very practical for ministry: Organizational Leadership, Theology of Church Ministry; some courses will be in-depth Bible: Daniel will focus on end times; some courses will help as we deal cross-culturally with many different nationalities and belief systems: Christian Worldview. The one course we have already taken, Theology of Church Ministry, has already reaped benefits in our church ministry. For instance, Matt has been able to use what was learned in his teaching with the youth group, and Barb has been able to use ideas in her Sunday school and Scripture Class lessons.

We are pursuing this degree together, and trust that the Lord will use the study to benefit our ministry here. There is, however, a cost. We did not anticipate this when we were on furlough, and we are finding ourselves unsure of where the funds for completing the program are coming from. The cost of tuition alone over the three years will be around $10,000 US. This does not include the books and materials we will need to purchase (average $200 per year).

If you feel led of the Lord to contribute to this educational endeavour, we would appreciate any gifts you can send. Please send your contributions to ABWE, indicating that it is for Matt and Barb's Seminary tuition.

Matt had a wonderful time in Germany as he investigated the possibilities of an outreach at this major sporting event every four years. The cost of the rental car, gas and accommodation well exceeded what we had budgeted, and we were short $1700. If you would like to contribute to this, please send your gift to our Evangelism and Church Planting Account at ABWE.

We never like to burden our supporters with extra gifts and projects, but these two listed above weigh heavily on our hearts and we need to make our needs known to you. Please pray that God would raise up the funds necessary. Pray that God would move in the hearts of His people to give to these projects.

We so appreciate your faithful support and encouragement over the years. God is good and He will continue to supply all our needs.


In His service,
Matt, Barb, Amy, and Luke Douglas
ABWE Australia
Douglas Dispatch 1st Quarter 2006 PDF file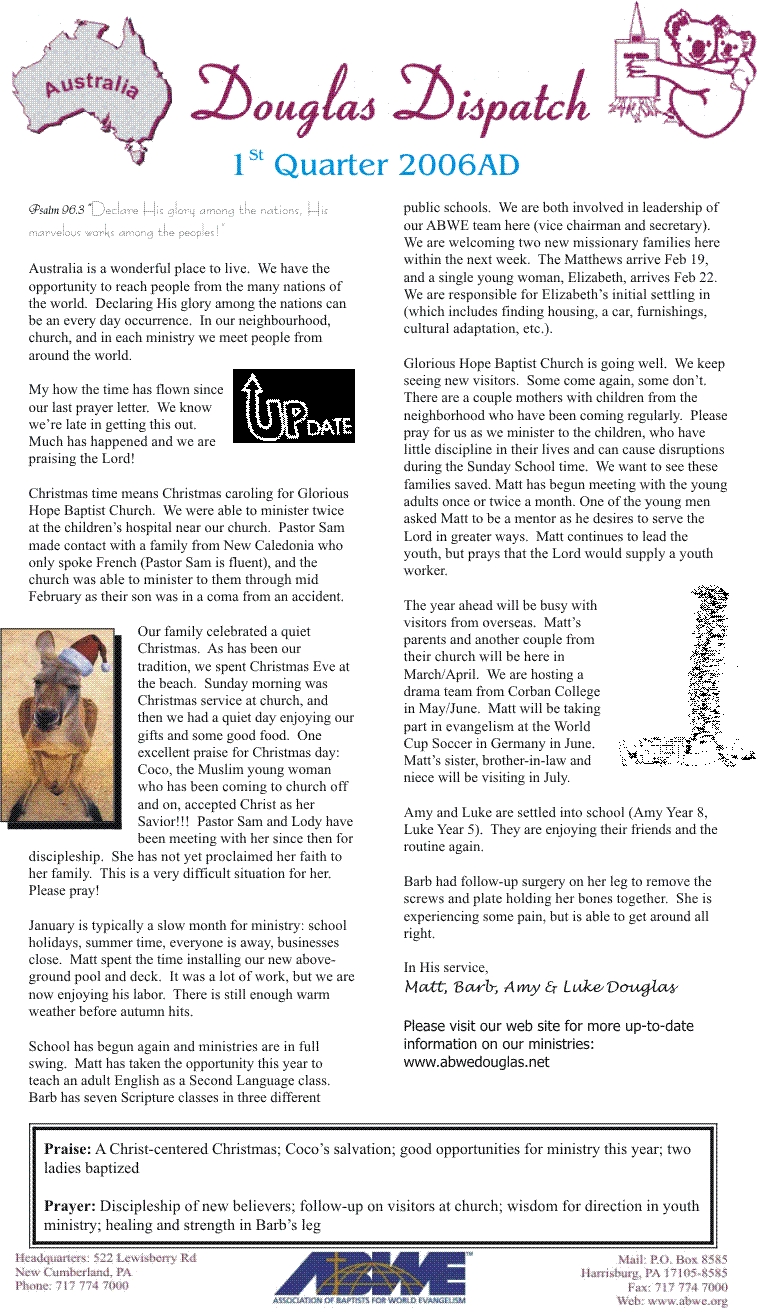 ----------------------------------------------- Douglas Dispatch 1st Quarter 2006 PDF file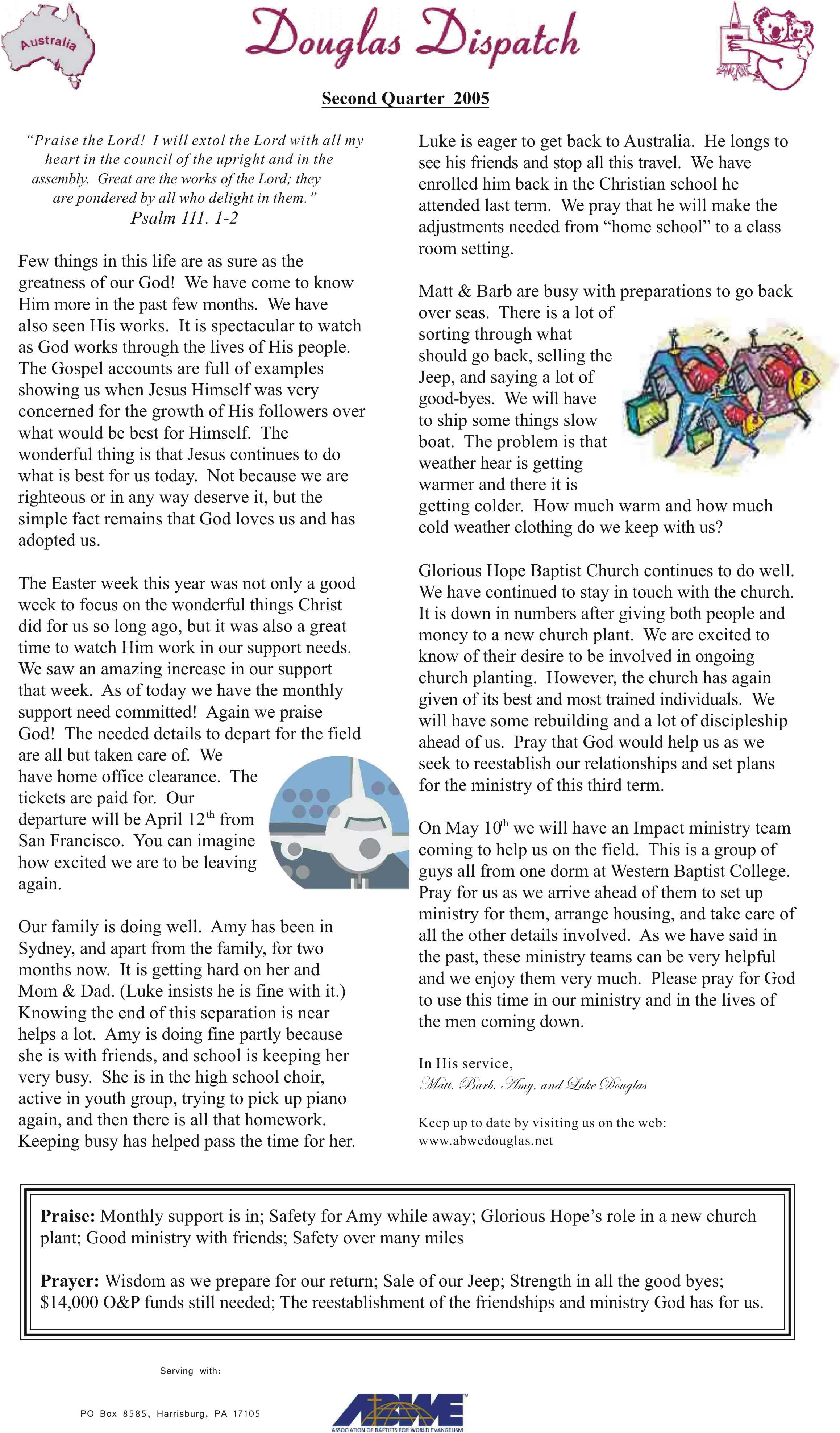 -------------------------------------------------------------------------- Douglas Dispatch 3nd Quarter 2005 PDF file
Douglas Dispatch 2nd Quarter 2005 PDF file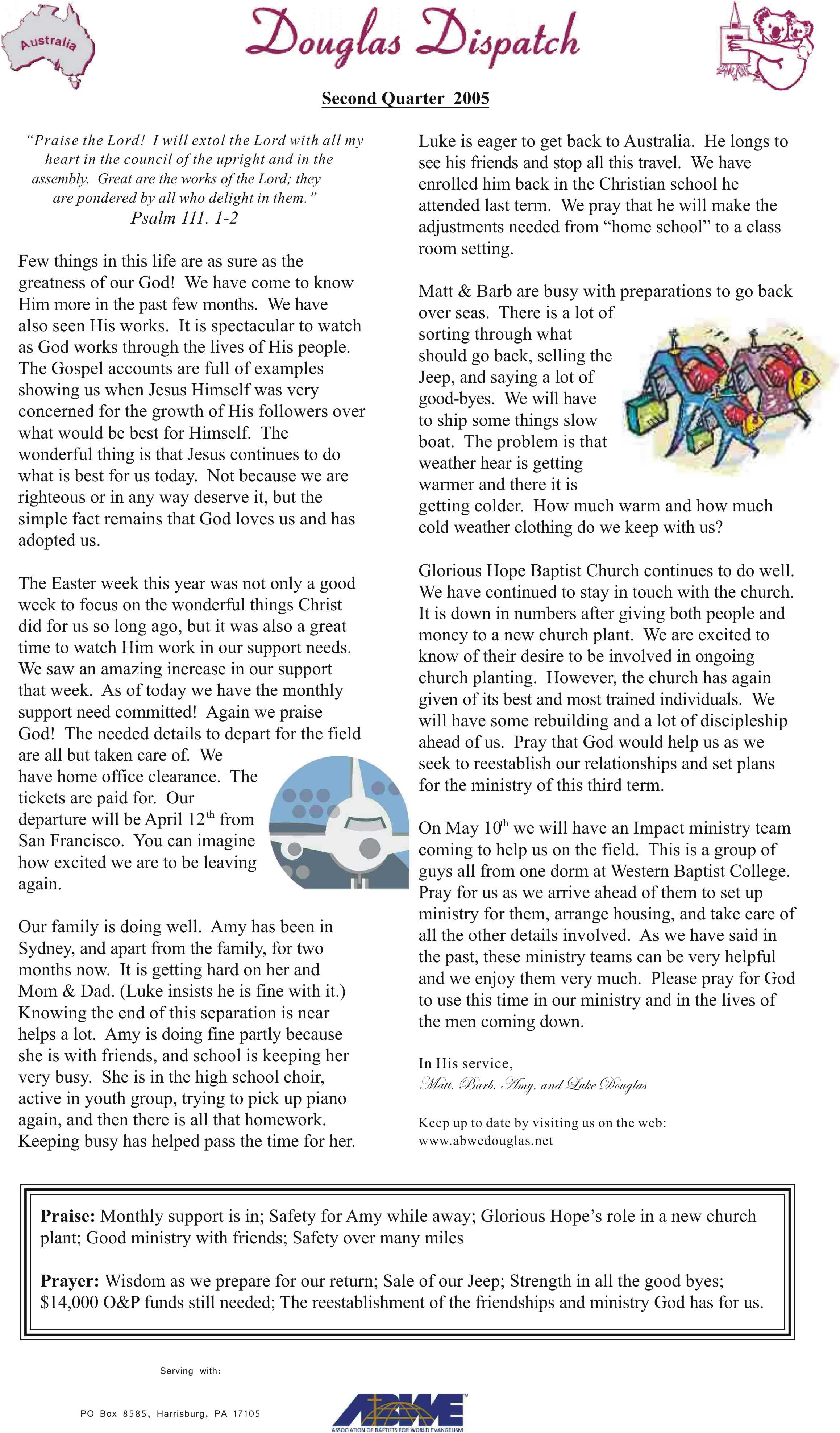 March 21, 2005

G'day friends,

Psalm 117.2 "For His merciful kindness is great toward us, And the truth of the Lord endures forever. Praise the Lord!"
We are ever mindful of the Lord's kindness these days. He has repeatedly been very kind to us. He is first of all merciful. We all need that! He is also very kind. We have had several "surprises" over recent weeks. Matt was able to attend a very challenging pastors conference through a gift from a supporting church. Following that a church even rented a Mustang convertible for me to drive back home to Barb and Luke. The long drive up Hwy 99 was almost fun. Right now we are back in Salem, Oregon, enjoying friends and our sending church through Easter.

Our support is also coming along. We are now just over $300 per month short of the minimum to return to the field. We could also use more O & P. We could return with that account as it is, but we would have only enough to by a car about 10 years old, and then pray that it will last till next furlough without major repair. Some have been asking how much we would need in a one time gift to cover everything. As of this typing, we would need a gift of $15,000 to $30,000. The smaller number covers the monthly need and the larger covers everything including the return airfare.

Enough about money. The ministry has been good as of late. From the opportunities to preach the Word in some good churches to the conversation on the sidewalk with a homeless man reading his Bible, God has continued to use us. Our idea of "missions work" has always been to be about the ministry, and allow God to use that to touch hearts to meet the needs of current and future ministry. We have a ministry team that is coming to work along side us in Australia on May 10th. We always enjoy ministry teams, but we need to be there soon to get things arranged for their arrival.

Amy continues to do well in Australia. School is keeping her extra busy. The homework, time with friends, and even singing in the school choir has all helped to keep her mind off the fact that Mum and Dad are so far away. While we can hear the longing to be with us each phone call, it is actually us parents that are "hurting" most. Luke still says he does not miss her, but he is talking a long time with her. You can also hear extra excitement in his voice when they get to talk.

We continue to appreciate your prayers.


In His service,
Matt, Barb, Amy, and Luke Douglas
ABWE Australia
January 2005
Dear friends and supporters:
"Grace to all who love our Lord Jesus Christ with an undying love." Eph 6.24
Happy New Year!!
We wanted to extend our deepest thanks and appreciation for all of your support and prayers. God is so good to give us such a committed group of supporters. Many of you sent cards and/or gifts over the Christmas season. We thank you all.
Many of you have asked how furlough is coming along. Thanks for your concern. We have finished our year of furlough, but as most of you probably know, we cannot return to the field until 100% of our support is confirmed. We are currently at 86.60 %. This means we need to raise $755.97 per month before we can return to our ministry in Australia.
Several churches have said they would vote on raising our support, and there are a few new churches who are considering adding us as new missionaries. In the meantime, we must be scheduling new meetings, which is a difficult task on short notice. Our desire is to be back in Australia well before Easter. Many churches schedule missionary speakers well in advance, and their schedules are already full. This means we may not be able to depend on any new supporters over the next few months.
This also means that we would ask you to be in prayer about what you might be able to do. We know several of you have already raised our support over this past year and we are so thankful for your generosity. However, the US dollar continues to fall against the Australian dollar. We also had a church and a couple individuals have to cut back or drop our support, due to financial constraints. We feel as though we have taken "two steps forward and one step back" this year.
We are not distressed by all this. You have probably heard us quote Hudson Taylor before, "God's work, done in God's way, will never lack God's supply." Everyone can see the need is great. Our prayer is that God would use some of His choice people to supply once again. We covet your prayers first of all, and, if God leads. . .
Wednesday, January 26, we said goodbye to our 12-year-old daughter, Amy, as she flew back to Australia with some friends and colleagues of ours so she to begin the school year on the 31st. Because she begins high school this year (high school begins in 7th grade in Australia), we felt it necessary to send her on so she can begin this new phase in her life. We are thankful for our friends who will house her while we remain here. Their daughter is Amy's age and they attend the same school. This has been a very difficult decision and we are not eager to be separated for any length of time.
Our longing is to be back in Australia. We have told some that we are very "homesick" and others that we really want to get back to work. We are waiting on the Lord and His perfect timing for our return.
In His service,
Matt, Barb, Amy & Luke Douglas

Douglas Dispatch Christmas 2004 PDF file
Christmas 2004
"For I know the plans I have for you, declares the Lord, plans for welfare and not for calamity, to give you a future and a hope." Jeremiah 29:11
We want to update you on what the Lord has been doing in our lives during our furlough this year. We have really enjoyed all the traveling, visiting and reporting in our churches. We have enjoyed some real quality time as a family. It has been a blessing to see friends and meet new friends in our supporting churches.
We are three weeks away from completing a year of "home schooling" with Amy and Luke. They have performed admirably, and trust that they are right on track to continue in school next year (the Australian school year parallels the calendar year).
We recently talked with our Glorious Hope Baptist Church team in Australia. They are reporting a steady attendance, some visitors, and some challenges. Many of the challenges come from new adult believers who need to be discipled. Please continue to pray for this church as they seek to honor God in their worship and teaching of the Word. We are eager to get back.
We came back to the states with a significant shortfall in our support. While we have made up a considerable amount, we are still too far short to return to the field when we had hoped. Our airline tickets expire at the end of December, but it does not look like we will make it. We are trusting the Lord that the rest of our support will be made up within the first month or two of 2005. In fact, there are several supporting churches considering raising our support, and also non supporting churches considering supporting us for the first time, many of these making decisions in January. We also need more one-time gifts for our Outfit and Passage account.
Our later return has a lot of ramifications, such as: Amy and Luke may have to start school late; our home will be vacant from December onwards, so we will have to pay our entire mortgage from here on out (besides security issues of our home with no one living in it); scheduling new meetings for January and February (pray that God would lead us to churches that would partner with us in ministry in Australia); having to purchase new airline tickets; missing out on the ministry in Australia; missing our friends and coworkers there. We know that God has a perfect plan in all of this, and we are eager to see how He will work in this situation.
Thanks for praying for us. God is so good to give us faithful prayer supporters. We trust that the Lord will give all of us opportunities throughout this Christmas season to share His love and the reason for His birth, life, death and resurrection.
In His service,
Matt, Barb, Amy, and Luke Douglas
ABWE Australia